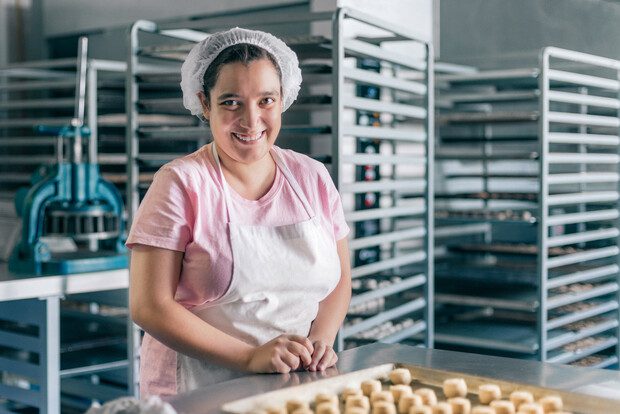 Volunteer with intelectual disability working at a Bakery Workshop
October is National Disability Employment Awareness month in Canada. As October comes to a close, we wanted to reflect on the annual event created to build awareness around the positive outcomes of hiring persons with disabilities.
Although many people with disabilities have excellent skills and a lot of talent to contribute to Canadian employers, their opportunities seem to be limited.
In 2017 Statistics Canada conducted a survey that profiled employment rates of Canadians with disabilities. The survey found that a person with a disability was 59 percent less likely to be employed than someone without a disability. Of the Canadians with disabilities who were unemployed, 39 percent had the potential to work.
This means nearly 645,000 people with a disability in Canada are unemployed, yet are capable of working.
Common barriers to employment
When it comes to hiring a person with a disability, one of the barriers employers face is lack of resources. Employees with a disability generally need more support than other employees.
Even though many business owners like the idea of hiring a person with a disability, when they start to look at the practicality of it, things change.
Take a small business for example. The onboarding and training process looks a lot different for someone with a disability. The extra support this employee requires means pulling time and attention from the owner or other staff members. When a small business is running with thin margins already, hiring a person with a disability just isn't feasible.
Lack of information or misinformation about hiring people with disabilities is also a common barrier for employers. There's still a lot of stigma around the idea. For example, many employers believe that a person who has cognitive delays is unsafe or a liability in the workplace, which isn't necessarily the case.
Customized employment
With a little flexibility and understanding, there is a way for employers who see the value in hiring a person with a disability to make it work. The key is in creating a position that utilizes the capabilities of the employee with a disability and, at the same time, alleviates the workload of some of the existing employees.
Customized employment makes good sense for an employer when they can hire a person with a disability in a customized position and free up time for a more senior employee who was getting paid more to do the same thing.
Entrust as an example
Through our Framework for Life (FFL) program, Entrust has put customized employment into practice. We currently employ six Entrust clients who share the responsibility of stocking the first aid kits at our sixty houses. Each employee spends about three hours a week stocking these kits, which has helped alleviate the workload of our service managers.
Customized employment has certainly proven to be a winning solution here at Entrust!
Are you interested in becoming an employer partner? Learn more.