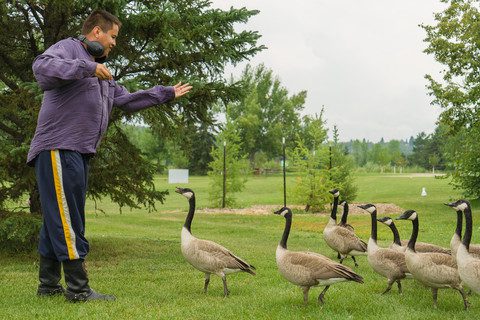 Feeding a group of Canadian geese while out on a walk
Finding Fitness in the City
Summer is the perfect time to kick off new, healthy-living routines. There are endless options to get your loved one moving, from games in the park to enjoying the day at a festival. For those with developmental disabilities, shifting out of unhealthy habits can be exceptionally difficult; it is largely up to caregivers to be the supportive – and creative – source of motivation for fitness.
This summer, we encourage you to get out into the community – we have compiled a listing of some of our favourite local activities from clients in our Residential Care Program that we are sure you and your loved one will enjoy as well!
Walks
Seems simple doesn't it? Well it is! Incorporating more walking time into your loved one's day is an easy way to get them up, moving, and out in the community experiencing new things. We are lucky to have plenty of parks and walking trails in Edmonton; find one in your area, or maybe even try venturing out to the Edmonton Valley Zoo, Jurassic Forest, or try berry picking at Prairie Gardens.
Swimming
Plan the perfect swim day at one of the many city facilities throughout Edmonton. There is something very calming about being in the water, and it is no surprise that swimming has cemented itself as a favourite activity for our clients. Try out facilities like Peter Hemingway or the ACT Aquatic and Recreation Centre!
The city also offers a Leisure Access Program for those on AISH that provides free memberships!
Art
Get creative with your exercise and remember that fitness takes all kinds of forms! The Nina Haggerty offers inclusive events and exhibitions year round. The Art Gallery of Alberta has a free event coming up on June 21 celebrating National Aboriginal Day that could be really fun day trip!
Gyms
It all depends on your loved one's sensory needs if a gym visit would be a good fit; many of our clients find gyms to be quite overwhelming. That said, YMCA's across the city are usually a bit slower in the daytime and have awesome facilities and programming. We recommend using the walking tracks and the gymnasium for activities like floor hockey – and if you're up for it, maybe even participate in a Zumba class.
We often take trips out to the Castledowns YMCA, their management and staff are always very supportive and accommodating.
Fun at home
Alright, so this post was geared towards getting your loved one out and about, but sometimes that is easier said than done. There are a ton of low-cost fitness ideas to have at home that will at least let you get outside to enjoy the beautiful weather. Trampolining is favourite activity for our clients. It requires no fine motor skills, is repetitive in nature, and anyone can jump on a trampoline making it a simple and effective way to get moving. Additionally, lawn games like croquet or lawn bowling are always popular!
You can even venture out to some local trampoline parks like Fun Park and LaunchPad.
Health and wellness is important for all of us and Edmonton has so much to take advantage of. The biggest take away we can leave you with, is to really get creative with your fitness ideas this summer. Events like K-Days the Street Performer festivals may not seem like exercise, but really they are – you can be walking around for a whole day! Figure out what motivates your loved one, and try to plan activities they will actually enjoy.
We hope you have a fun, active summer!
If you are interested in learning more about our group home programming please do feel free to contact us.