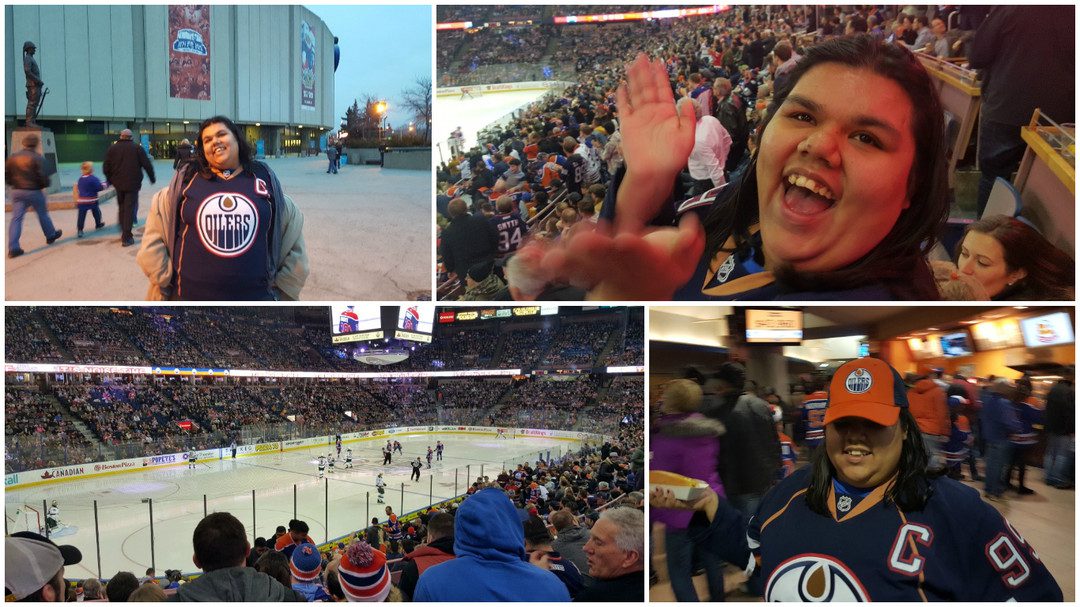 Lyndsey at her first Edmonton Oilers hockey game
Like a true Edmontonian, Lyndsey is an avid Edmonton Oilers fan. On February 18 Lyndsey got to experience her very first NHL hockey game: the Edmonton Oilers versus the Minnesota Wild.
As any good fan would be, Lyndsey was giddy in anticipation on game day. Entrust staff helped to reduce her anxiousness by creating a visual countdown that allowed her to check off the last 7 hours before the game began. We wonder if Taylor Hall has a similar game countdown process?
Lyndsey and her Entrust mentor arrived early to find their seat and watch as throngs of fans donning blue and orange poured into the stadium. Lyndsey instantly loved the energy of the arena and began to ask who a few of the players were as they warmed up on the ice. When the game started she was ecstatic to see the Oilers fight hard and score a few goals on the Wilds in the first period.
She kept her cool when the Wilds later benefitted from a power play and scored more goals. Lyndsey was friendly with other fans, feeding off their energy and learning to cheer along "Let's go Oilers!" Lyndsey was kind enough to stand up every time someone in her row needed to shuffle through. Lyndsey enjoyed all the fun and activities in between periods. She participated in a wave with the crowd, explored the concourse, watched the crowd shootout and the zamboni resurface the ice.
Lyndsey cheered for her team continuously and never ceased to smile. When the game finished Lyndsey expressed her appreciation for being able to experience such an amazing night. As she left the arena with her Entrust mentor, she continued to cheer for her team and recount the details of the night.
For Lyndsey, the hockey game was a lot more than an entertaining night out. At the hockey game she was able to fully participate, socialize and feel included in all the aspects of being a part of a crowd at a sporting event.