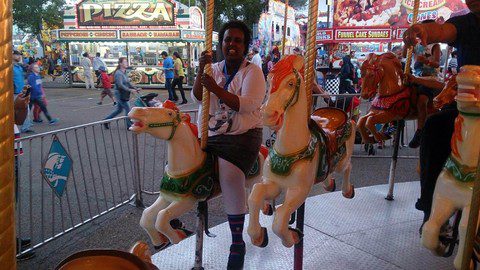 Sado at K-Days!
This summer, Entrust client Sado had a very successful day at K-Days!
When Sado first expressed her desire to go to K-Days, the staff at Shack had concerns. Sado had often displayed challenging behaviour in crowded public places — things like removing clothing, confronting strangers and laying on the road.
The staff talked with Sado about good behaviour in the days leading up to K-Days; they also offered her time with some of her favourite things (like her iPad and laptop) as a reward for behaving well. Sado agreed to be on her best behaviour.
The staff took Sado and her roommate, Bony, to K-Days. The group spend about four hours there and Sado behaved very well! She enjoyed many rides and even had supper on the midway. Sado's experience at K-Days definitely helped improve her social interaction. Way to go, Sado!