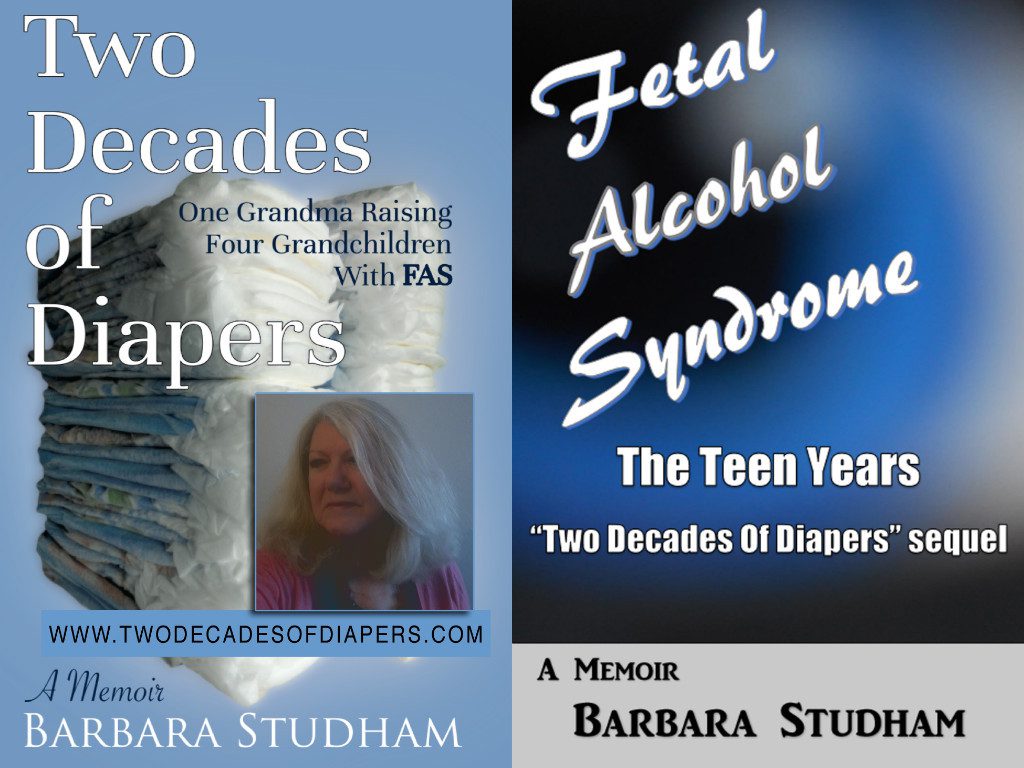 We are thrilled to have the incredibly strong, talented and insightful Barbara Studham as our very first guest blogger. Barbara talks about her experience raising grandchildren with Fetal Alcohol Syndrome (FAS), the aggression and behavioural issues that arise, and her experience with residential care.
Coping With Behavior Disorders
by Barbara Studham
The road travelled by families of children with complex behaviors can be long and arduous. Residential care programs are often a caregiver's last hope after other treatment options for the child are depleted. When considering residential treatment, parents might fear the impact of the program on their child, and the emotional aspect related to leaving a child in residence: how will my child cope with leaving home; am I abandoning my child; what will people think of me.
Youth Residential Care
As a grandmother raising four grandchildren with Fetal Alcohol Syndrome in the city of Hamilton, Ontario, I am well aware of the disruptive behavior disorders this mental illness can cause. All four of my grandchildren are now teenagers but, during their tween years, two of my grandchildren tested my caregiving ability through uncontrollable aggression and intense outbursts. Needing help, I sought the advice of a caseworker for family services who suggested I register my grandchildren in a residential care program.
Initially, I was horrified at the thought of my grandchildren being in residence as I envisioned the centre as being a jail for delinquent children. However, after touring the facility, consulting with staff, and considering the overall program, I quickly realized what an amazing service the residential care centre offered.
Consulting With Staff
On arriving at the residence for the initial tour, I was greeted warmly by friendly and informed staff who led me through each unit of the centre: the children's bedrooms, the kitchen, the gym, the TV and games room, and the outside play area. All rooms were clean, organized, and protected by safety regulations. The nine-month complex mental and behavior program addressed the importance of self- efficacy, life skills, cultivating social skills, problem solving, and anger management. Parent support and training programs were an integral part of the program. These sessions offered caregivers strategies to cope with the child's symptoms within the home and when out in the community. The program ran for nine months in three phases, with the purpose of integrating the child back into the family home on a full time basis.
Saying goodbye to my grandchildren on their first day of residence was difficult but, after only a few days, they had settled into the program, made friends with the other residents, and were building relationships with the staff members. Integral to the basic programming were outings to local places of interest and events, summer barbeques offering the children's families an opportunity to meet and socialize, and Christmas parties with gifts and a visit from Santa. Upon completing the program, each child received a photo album full of memories of their stay, and was encouraged to call the staff with updates after leaving. On discharge, children were treated to a graduation party which parents were invited to attend and applaud each child's progress and enjoy refreshments in an informal setting.
Is The Centre Appropriate To The Child's Needs?
To caregivers apprehensive of enrolling their children in a residential care centre I would suggest obtaining information on the program, attending a tour of the residence, and consulting with staff. Only then can one know for sure if the residence is appropriate to the child's needs. For more information on my experience with Fetal Alcohol Syndrome and the residential care centre, please visit my blog at www.challengedhope.com.
In addition, read my two memoirs describing my twenty years raising grandchildren with FAS. The first, Two Decades Of Diapers, is a down-to earth, no-holds-barred reference to the struggles associated with raising young children with Fetal Alcohol Syndrome, and includes the challenges my adopted daughter with FAS endured, her teen pregnancies, how I became a grandmother raising grandchildren, and the crises, shattered dreams, and strength and love we share.
My second memoir: Fetal Alcohol Syndrome, The Teen Years, (soon to be released) shares my desperation, fears, hopes, and prayers while coping with my grandchildren's teen years. Often labelled defiant, odious, caustic, or wayward, teenagers with FAS are more victims of brain damage overwhelmed by the demands of everyday life, than the disposable people society deems them.
If you are a caregiver, an individual considering adopting or fostering a child with FAS, a mental health worker, or someone who is interested in learning more about this disorder then my memoirs are essential reading. Two Decades Of Diapers is available at www.twodecadesofdiapers.com, and Amazon. Fetal Alcohol Syndrome, The Teen Years, will be available from the same sites in the early spring of 2016.
©Barbara Studham 2015