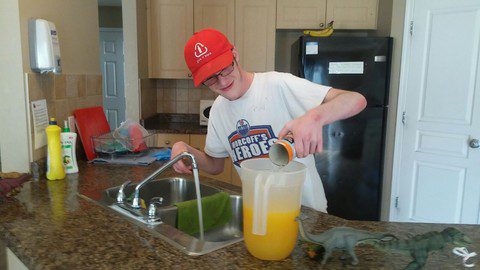 Cody making orange juice!
Cody Vandewark is an Entrust client who lives in Brownstone. Cody is a fun-loving boy who has developmental disabilities and is working towards gaining more independence.
Cody has made wonderful progress lately. Recently, he prepared orange juice from a frozen can without any help from his caregivers. Cody followed the instructions perfectly, and kept the kitchen and utensils clean. Cody was so happy with his orange juice, he called himself "Juice Man." Then he served the finished product to his roommate.
Cody's success making juice on his own boosted his self-esteem and gave him more confidence in his journey to independence.
Great job, Cody!