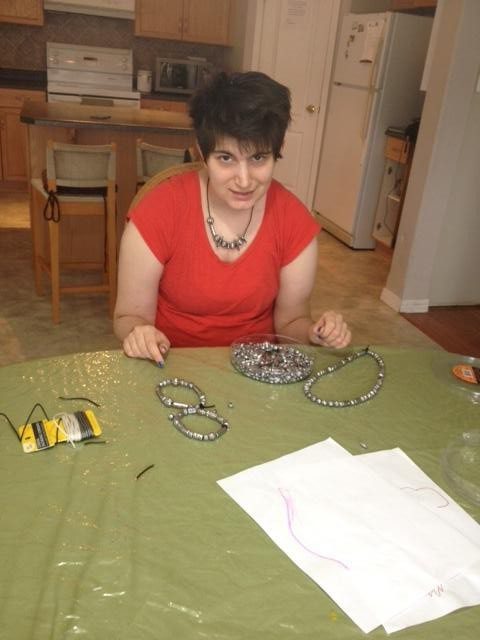 Leigh doing a craft in her kitchen.
We have another client story to share this week!
Meet Leigh. Leigh lived in an institutional setting before coming to the Entrust Residential Home Program in July 2014.
When Leigh first arrived at Entrust, she had to learn how to live with other young teenagers in her group home and build relationships with staff members. In the beginning, Leigh isolated herself in her room and would seldom engage with others. Her care workers and behaviour therapist devoted many hours to help her gradually feel safe and secure in her new home.
The transition was by no means easy – but nothing worth doing ever is. It took Leigh roughly 9 months with ongoing support from her family, doctors, and care workers to fully adjust to life at Entrust.
Leigh always had deep bonds with her mother, sister and father. As Leigh grew older, it became harder and harder for her family to cope with her escalating behavioural issues. It put a strain on their relationship.
She is now able to spend a lot of quality time with her family and have a loving relationship with them. The stress and pressures of her health and behavioural issues no longer impede their on relationship.
Leigh is flourishing as a beautiful young lady. She is very creative and enjoys a variety of arts. She loves shopping, looking for good deals and spending time in the community. She has also become much more social and will attend parties with other peers and staff. On occasion she may even dance! As always, this amazing story is largely due to the workers who care and create relationships with clients. A very special shout out to Kumba for helping Leigh settle in and enjoy life in her new home.