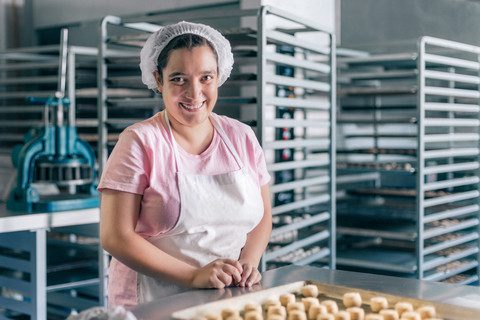 Fulfilling an individual's right to work is key to the meaningful inclusion of all Albertans.
So, what is stopping employers from adopting more inclusive hiring practices? There are a number of common beliefs people have about employing someone with a disability that are just downright wrong.
There have been massive strides over the years with reputable companies like Home Depot and Tim Hortons, carrying the banner, advocating for hiring the ability – giving those with living with a disability an opportunity to find a meaningful place in their community. These employers have been leading the way, providing us with the hard proof that debunks the common misconceptions many have.
So without further ado, here are 6 of the most frequent myths circulating out there about hiring those with a disability:
Myth #1: They will be frequently absent and unreliable
FALSE: A DuPont Corporation study found that 85% of its employees with disabilities rated average or above on attendance (Yukon Council on disABILITY). For someone with a disability, they take great pride and are excited to come to work – it is often one of the few opportunities for them to be involved in their community.
Myth #2: They require expensive, specialized accommodations
FALSE: The average one-time expenditure for employers when hiring someone with a disability is $500 (Canadian Business SenseAbility). There is no reason to think that someone with a disability would be a financial drain on a company.
Myth #3: People with disabilities are more likely to have accidents
FALSE: Employees with disabilities have excellent safety records. In fact, a 2002 survey of 643 Australian employers reported that the number of health and safety incidents was six times lower for employees with disabilities than for other employees (Canadian Manufacturers and Exporters).
Myth #4: If they don't work out, I can't discipline or fire them
FALSE: You have the right to operate a productive business and employees with disabilities should be held to the same performance standards as other employees. Companies simply need to do their due diligence in providing the support and necessary accommodations for employees to be successful in their given role.
Myth #5: They don't have the skills or education that I need and will require constant help
FALSE: With appropriate duties and responsibilities, people with disabilities thrive in the workplace! In any workplace, there are positions for a variety of skill levels, and if an employer is serious about hiring someone with a disability they would have already considered suitable roles. Additionally, there are job placement services and other supports that help employers find the right match!
Myth #6: They are unable to meet performance standards and aren't as productive
FALSE: According to Stats Canada, the vast majority of people with disabilities do as well or better at their jobs than non-disabled co-workers. Think about it, if you are hiring someone with a disability they are typically well-suited for and focused on the job.
Look beyond the common misconceptions! There are so many benefits to hiring someone with a disability – from internal company dynamics to reputation building to strengthening your community, and perhaps most importantly making an amazing impact on an individual's life.
At Entrust, we encourage you to consider building pathways for inclusion for adults with disabilities. As a part of our Framework For Life program, we actively match our clients to employers throughout Edmonton and the surrounding area. Once an employer is identified, Framework For Life arranges several candidates for interviews so that a good fit can be achieved by both parties.
Are you interested in becoming an employer partner? Learn more.